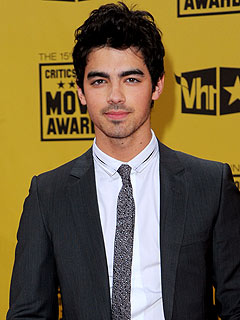 Joe Jonas, who has dated such beauties as singer
Taylor Swift
and actress Camilla Belle, is taking a break from the dating game.
"This is the longest I've ever been single actually," Jonas told PEOPLE at the Critics' Choice Awards on Friday night in Hollywood of his eight-month relationship hiatus. "I love it. I still date and things like that but just not committed, which is nice."
The middle Jonas brother was on hand to support his younger brother Nick, whose group Nick Jonas and the Administration was the house band for the VH1 award ceremony. So while Joe's younger brother goes solo and his older brother Kevin gets accustomed to married life, the 20-year-old Jonas has his sights set on tackling Hollywood.
"I love to make people laugh. If I can make people laugh, then I feel good," says Joe, who is currently reading scripts. "For me, acting is something you're able to be eclectic. That's something that I would really like to be a part of."