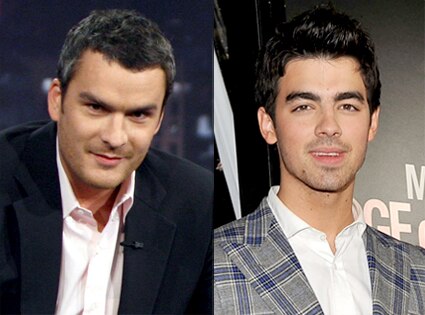 Did you ever think to yourself: That
Joe Jonas
sure bears an uncanny resemblance to
Balthazar Getty
?
No? Well, apparently, the producers over at
Brothers & Sisters
have, because, although there's no official word yet from ABC, inside sources tell me Joe will be playing a younger version of Balthazar's character, Tommy, in a two-episode flashback arc that focuses on the history of the Walker family.
So who else has been cast as the other Walkers? Well, you'll never guess who
Rachel Leigh Cook
is in contention to play...
A young Nora Walker, aka
Sally Field
.
According to sources on the show, Cook has auditioned for the role, but no final decision has been made on young Nora's casting. Also in the running for Nora are
Courtney Ford
(known as Trinity's illegitimate daughter Christina from
Dexter
and
Brandon
Routh
's real-life wife) and attention
Grey's Anatomy
fans,
Nora Zehetner
(who played Stinkerbell on season one of
Heroes
and who is now Alex's love interest on
Grey's
). What does this mean for Alex's future love life at Seattle Grace? Hmmm...
According to sources,
Kay Panabaker
(pictured at right), most recently seen in
Fame,
will play a young Kitty (Calista).
Anna Wood
(a newcomer you can see
here
) will play Sarah (
Rachel Griffiths
), and
Kasey Campbell
(ditto on the newcomer status and you can see him
here
) will play Kevin (
Matthew Rhys
). Pretty awesome resemblance if you ask me.
I'm told quite a few hot guys are lining up in the hopes of playing the show's dearly departed patriarch, William Walker.
Who would you like to see play the rest of the Walkers? Anyone you think the casting peeps may have overlooked? And are you as psyched about this episode as we are?