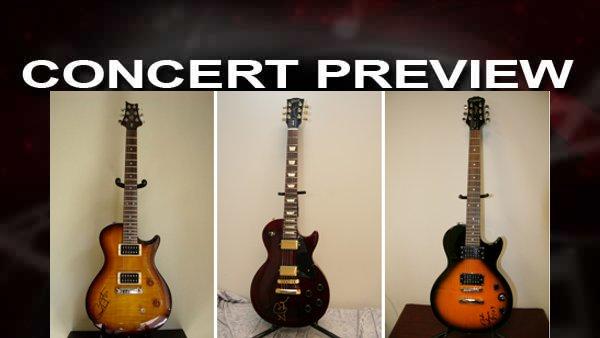 Not exactly bands you would expect to collaborate on a regular basis. But when it's for kids and for cancer, anything can happen.
And it will Saturday, Oct. 24 as the 2009 Stars Guitars event takes place at the Ford Community and Performing Arts Center in Dearborn.
The autographed guitar and sports memorabilia auction -- which includes a performance by classic rockers REO Speedwagon -- is raising money for the Charles A. Main M.D. Pediatric Cancer Survivor Scholarship Fund.
Main says the fund came about nearly two decades ago, when a Birmingham business owner and former patient of the Chief of Pediatric Hematology/Oncology Department at Beaumont Hospital in Royal Oak, approached him with a business proposal.
"He said Birmingham is going to have a Fall Spectacular Fashion Show and we want to donate the money to charity," Main said. "He asked me, 'If we give the money to you, what would you do with it?'"
After brainstorming with his wife, co-workers and much soul searching, Main came up with an idea.
"It always bothered us that there was never a real closure with the kids who had gone through chemotherapy. So many of the families spent most, or all of, their savings," he said.
"The kids missed so much school and fell so far behind. We thought it would be nice to give out money to people who didn't think of themselves as college material."
So for the next 10 years, Birmingham's Fall Spectacular Fashion Show supported Main's Pediatric Cancer Survivor Scholarship Fund, starting in 1992 with one student receiving help for her entire college career.
The event -- and the fund -- grew over the next decade. Until Sept. 11, 2001.
"The Fall Spectacular was scheduled for Sept. 12 that year," Main says. "So after what happened on 9/11, we canceled it. And the whole thing lost momentum after that."
After taking a few years off, a group of volunteers working with the fund came up with a new idea: gathering up autographed guitars, sports memorabilia, signed books and other valuable items to be auctioned off at a stroll around dinner event, complete with live entertainment.
"Right from the beginning, we wanted to keep it very casual," Main says. "So many of these kind of events you have to rent a tux and buy a fancy dress. We wanted to keep it moderately priced.
"Every year we have people there in jeans and t-shirts and we have people there in tuxes. And it's great."
This year, along with the REO Speedwagon concert, up for auction will be a LeBron James autographed All-Star jersey, a Curtis Granderson jersey and many other signed items from the Lions, Tigers, Red Wings and Pistons.
But the 54 signed guitars are the highlight of the show, and are a result of tireless work by volunteers.
"It's one of those things where we're asking for donations all the time, and you may get one out of the 20 bands you ask to help you," Main said.
Main says they have gotten a great deal of support from several artists year after year. Melissa Etheridge, a breast cancer survivor herself, has always been very supportive, he says. So has country star Toby Keith, who had an original band member lose his daughter to kidney cancer at age 2.
"So once he found out what we were doing, he pretty much stops whatever he's doing to sign and send a guitar for us every year," Main says.
There's also several local acts who regularly get involved. This year, there are guitars from Michigan natives Alice Cooper and Bob Seger, as well as Chickenfoot (Chickenfoot drummer Chad Smith is a Bloomfield Hills native), Kid Rock and Mitch Ryder.
All of them will be up for auction. But the highlight, at least for Main, is the guitar autographed by the late Les Paul.
"He put us through the toughest investigation of anybody we've worked with to make sure we were legit," Main said. "But once he found out we were, he was great to work with."
Musicians also contributed several other signed items for the auction. Avenged Sevenfold sent an autographed Revolver Magazine along with a guitar, Styx's Dennis DeYoung sent an autographed keyboard, and Pearl Jam contributed a poster from a June 2008 concert in New York City signed by the band.
"We are always thrilled to find ways to support the charitable work of organizations such as Beaumont Hospital," said Pearl Jam's publicist Virginia Piper.
This year, Main says the proceeds from the event will help send 40 former cancer patients to college, contributing up to $2,000 per year per students as long as they are in school.
"Last year, we had a girl finish medical school," Main said. "We've had lawyers, firemen, teachers, engineers. It's been so incredibly rewarding to see them all go this far."
Tickets for the event are $75 and there are still seats available.
For more information, click
here
.