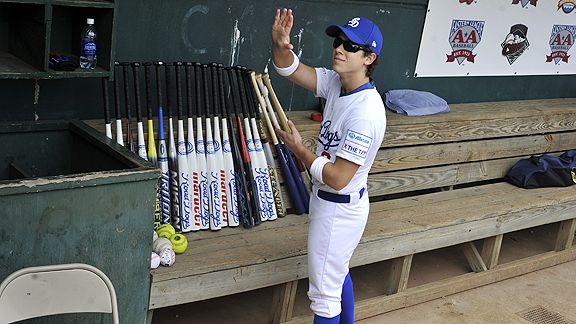 NEW BRITAIN, Conn. -- Wow, that was embarrassing.
After months of trash-talking, ESPN's team of commentators and staff lost 3-0 to the Jonas Brothers.
Yes, the Jonas Brothers.
The G-rated boy band of "Camp Rock" fame (Nick, Kevin and Joe) and its roadies beat ESPN's team (which had some ringers) in front of about 5,000 screaming girls at New Britain Stadium on Friday afternoon before their concert in Hartford, Conn., that night.
Yes, the Jonas Brothers.
"Guess they can stop all that smack talk," said pitcher Kevin Jonas, who gave up eight hits and no runs in seven innings. "We've been hearing about it for months. We finally shut them up."
Yes, the Jonas Brothers.
In May, ESPN fantasy guru Matthew Berry, on his fantasy podcast, put out a challenge to the Jonas Brothers to play a game of charity softball. It seems the fantasy podcast and the Jonas Brothers' podcast have been neck and neck on iTunes for years. And Berry wanted to show who's boss, so the challenge was made.
The Jonas Brothers play about 12 charity events a year coinciding with their tour schedule, so they took it up. After playing poorly last year, the team -- nicknamed the Road Dogs, with design style similar to the Los Angeles Dodgers -- revamped and has gotten serious. Last week, the Jonas Brothers lost 14-12 to the employees of Marquis Jet, the company that flies them to their concert appearances. "That was after losing by about 20 runs last year," Kevin said.
So they took the challenges to heart and started practicing. They didn't want to lose in front of their fans.
"We have such amazing fans that we like playing softball in front of them to give something back to the community," Joe Jonas said. "And who doesn't like winning?"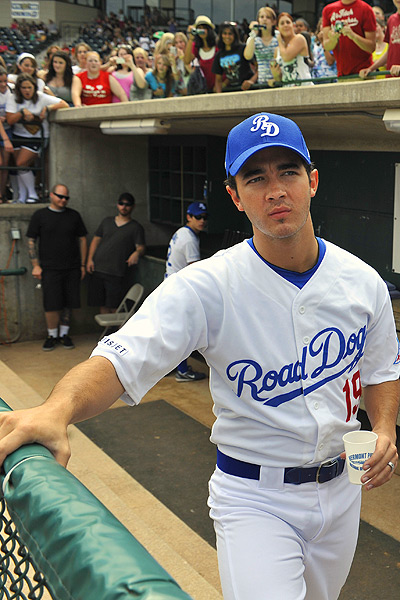 So after an appearance on "Good Morning America" on Friday, the brothers made the two-hour trek to central Connecticut and arrived around noon. That was when the game originally was supposed to start. Girls had been standing outside the stadium trying to get in at 10 a.m., so when the boys finally did arrive and walked onto the field to warm up after 1 p.m., the place erupted.
For the most part, the game was ho-hum. The Jonas Brothers -- with Kevin pitching, Joe in right field and Nick at third -- scored two runs in the first, and that pretty much was it. They scored once in the third for the final tally.
While the Road Dogs are made up of the brothers, their bandmates and their road crew, the ESPN G.O.A.T.s -- Greatest Of All Time -- had Berry, Mike Greenberg of "Mike & Mike in the Morning" and "SportsCenter," "SportsNation's" Michelle Beadle, NFL analyst and former All-Pro defensive end Marcellus Wiley, and "Baseball Tonight" analyst and former MLB player Eduardo Perez.
You'd think with a lineup like that, the team could scratch out at least one run. But it struggled all day.
"We got roughly the same amount of hits, but we didn't put our hits together," said Berry, who pitched the whole game. "Hey, what can you do?"
Kevin chimed in: "Look at the scoreboard."
Here are some Page 2 observations:
1. The Jonas Brothers really can hit. Kevin had two hits, while Nick got on base twice -- once by an error -- and Joe had some nice swings but didn't get on base. Joe and Nick both wore tar under their eyes, while Kevin didn't.
2. The real key for the victory was Kevin's pitching. He would flip the ball palm-side down to make it spin back so ESPN talent would pop it up in the air. No one on ESPN's side figured out how to handle it, except for fantasy editor Nate Ravitz, who had three hits.
3. Nick is a diabetic and plays with his insulin pump. After getting a single in the first inning, he was having trouble with the device and took it off.
4. Everyone was wondering where singer Demi Lovato was. She is the opening act on the tour but didn't make it to the softball field because she was having a dress rehearsal for Friday's show.
5. Kevin Jonas (the dad) was in attendance. He travels with his children for most of their shows. He is the group's manager and had a career as a singer before focusing his attention on his children. A lot of teenage girls kept screaming at him, "I love your sons!" And he'd respond, "I love them, too!" The brothers consider him their rock, who keeps them grounded during these crazy times.
6. Nick is the real sports fan and would trade his singing career to play pro sports. He even worked out for a baseball team in spring training. He, along with Joe, played soccer as a child, and they tried their hand at baseball but started focusing on singing. Interestingly enough, Kevin was a pole vaulter as a teen and loves bowling.
7. Youngest brother Frankie wasn't there. The 9-year-old's nickname is "Bonus" Jonas, and he has started his own singing career and has appeared on television already.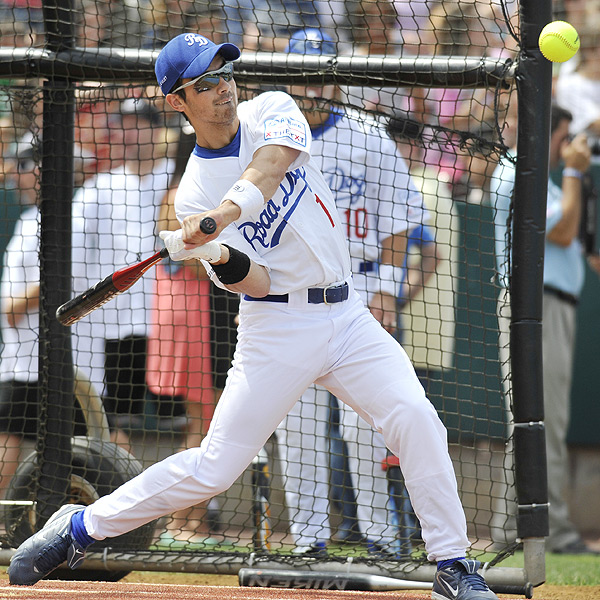 8. The brothers are prepared for their next big push with the release of "Camp Rock 2: The Final Jam," a Disney Channel original movie, and a CD with the same name. It's set to be released in a few weeks.
9. The Jonas Brothers have partnered with Allstate Insurance to promote the company's "X the TXT" campaign to get people to stop texting while driving. About 150,000 people have pledged not to text while driving.
10. ESPN had some snafus, including striking out a couple of times and generally not knowing how to get a runner home.
Even though they won, the Jonas Brothers said they will return next year for a rematch.
"We had a great time and we loved playing ESPN," Kevin said. "We definitely want to come back and play again -- and win again."
With the loss on the field, ESPN talent also lost a bet off the field and now must dress up and perform as the Jonas Brothers in a video for "Year 3000", a song by the Jonas Brothers.
Berry, Ravitz and producer Jay Soderberg must create a video and put it on YouTube for the boys.
Here are the opening lyrics:
One day when I came home at lunchtime,
I heard a funny noise.
Went out to the backyard to find out if it was,
One of those rowdy boys.
Stood there with my neighbor called Peter,
And a Flux Capacitor.
He told me he built a time machine.
Like one in a film I've seen,
Yeah... he said...
I've been to the year 3000
Not much has changed but they lived under water.
And your great great great grand daughter,
Is doing fine (doing fine).
If the ESPN talent perform as badly as they did on the field, it should be a YouTube sensation.