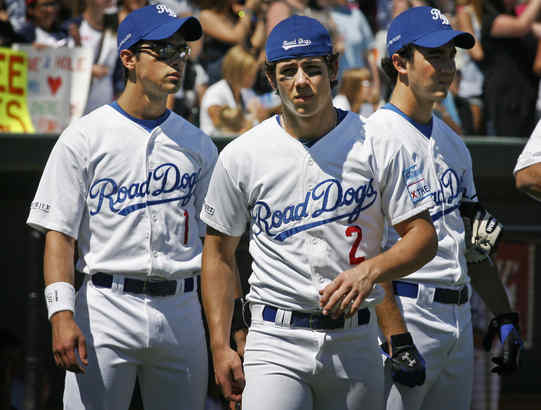 Oh, the screaming!
Nothing can prepare you for the screaming: Nearly 5,000 teenage girls shrieking, screeching, squealing, and squeaking in unison.
No, we're not in a war zone. This is a Jonas Brothers zone.
The boy-band trio - Nick, 17, Joe, 21, and Kevin, 22 - took over Campbell's Field in Camden on Friday afternoon to play a free softball game with the Road Dogs, their home-brewed team of roadies and pals, in support of Allstate's "X the TXT" campaign, a national effort encouraging kids not to text while driving.
(The boys performed Friday evening at Camden's Susquehanna Bank Center.)
The Allstate gig is one of the many causes the nice-guy brothers have supported over the course of their TV and music careers.
Fans - overwhelmingly teen girls - say they dig the message. But they had more important things on their minds: To see the boys, maybe say hi to the boys, maybe even touch the boys.
Their jones for the Jonases seems to reach absurd levels.
South Philly pals Nicolette Gleason, 13, and Samantha Landi, 14, waited for hours to get seats along the third-base line. "We've seen them four times each," said Landi, who cited "Fly With Me" as her favorite song and Nick as her favorite Jonas.
Each girl carried a two-foot-high cardboard heart decorated with Jonas Brothers-related photos, postcards, concert tickets, and song lyrics.
Gleason turned serious when asked if she's met the boys. "We have," she said, blushing, "well, to say hi and shake hands."
Mary Jo Yorks, 52, drove her daughter Jaycee, 14, and Jaycee's pal, Makayla, 15, from their home in Nescopeck Township, Luzerne County, a 21/2-hour trip.
Luzerne?
Pshaw!
Try Venezuela. Daniela Cossio, 16, and her sister, Alejandra, 18, had their mom bring them from Caracas.
Asked why they are so devoted to the Jonas Brothers, fans and moms alike kept using one word - well, aside from
cute
- to describe the singers:
wholesome
.
"It's clear they've been well-raised," said Woodbury's Amy Swanson, 35, who was at the game with a gaggle of super-young fans ranging in age from 5 to 9.
"They're really good boys from a good family," Yorks said.
Audubon Park's Anne Marie Levin, 47, said she is impressed by Nick's openness about his diabetes.
"It's inspired my daughter [Michayla, 12,] who has Type 1 diabetes. . . . It's a great message, to say you can handle the illness and have a lifestyle, too."
It's very hard not to like the boys. Even if you try hard. (Some of us have tried.)
They were respectful, polite, and sweet during a brief pregame chat.
"It's for a great cause," said Kevin, who pitches for the Dogs, about the "X the TXT" softball games the band has been playing during their tour.
Joe assured fans the game wouldn't deplete the band's mojo. (The fans' screampower, and the sheer force of their countless
Oh my God!
s, we're sure, will help pump 'em up.)
The Jonas Brothers love-in had no end. Even Sewell resident and home plate umpire Joe Marshall, who presided over a Dogs game last year, is impressed by the boys.
Asked - repeatedly and vehemently - if we should expect roughhousing, trash-talking, or fighting from the pop stars, he insisted, "Oh no, they're good boys."